Re-Roofing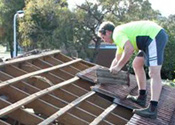 Victorian Roofing Service are also re-roofing specialists. We have built a reputation based on over 40 years of industry experience and professional service. Our quotations include removing the existing tiles from your roof, and relaying your new tile selection. When we commence your re-roofing project we complete one section of your roof at a time. This ensures that your home is never fully exposed to the elements, and eliminates the need for roofing tarps.
If your roof is in need of re-roofing,please allow us the opportunity to carry out this work for you, and help preserve and enhance your valuable asset.
WARNING
Home owners are being told old tiles become porous and need to be sprayed to stop them absorbing rain water. This is just not true.
Home owners are also being misled into thinking that spraying will be a lot cheaper than re-roofing when, realistically, a new roof is approximately 30% greater than a patched up spray job. That is a small price to pay for total peace of mind.