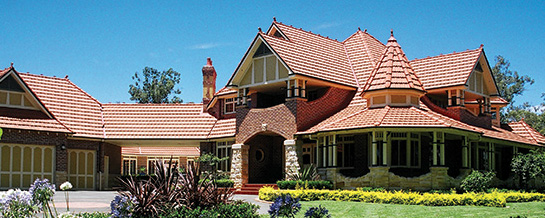 Marseille
Create heritage style or a timeless look for your home with the classic French-inspired roof tile that has become a tradition.
Colour never fades

Wunderlich roof tiles will never fade. Even after years on your roof with the sun beating down and the wind and rain battering away, Wunderlich tiles retain their colour.

Impervious to frost and ice

Monier roof tiles are ideal for those living in colder climates. They are impervious to the effects of frost and ice, and will never crack or warp, no matter how cold it gets.

Increased home resale value

Wunderlich roof tiles are simply a better investment decision. Because of their inherent, long-lasting, quality features, Wunderlich roof tiles add to the value of any home.

Provides thermal insulation

Monier roof tiles keep you comfortable in your home all year round, while helping save money and the environment through energy savings.

Salt Safe

Monier roof tiles are ideal for coastal locations that endure the wind, spray and salt of the ocean. All Monier roof tiles are salt safe and will not corrode over time.

Provides acoustic insulation

Monier roof tiles assist in keeping unwanted noise out. Their advanced insulation properties mean that the only noise in your home will be the noise created by you and your family.

Storm Defence

Monier offers additional ways to safe guard your house from the weather

with its Storm Defence system.

Tank water safe

Wunderlich roof tiles are made from naturally occurring clays, which means the water running off your roof into rainwater tanks is clean and safe.

Will not rust, warp or corrode

Monier's concrete roof tiles will not rust, warp or corrode, a problem with other roofing materials.
| | |
| --- | --- |
| Coverage: | Approx. 12.6 tiles/sqm. |
| Dimensions: | 280mmW x 455mmL |
| Mass: | 3.75kg |
| Lap adjustment: | The head or end up to 25mm and up to 5mm side lap adjustment |
| Bond: | Cross Bond |
| Roof Pitch: | 15 degrees to 20 degrees: sarking required. Greater than 20 degrees: sarking optional. Always check rafter to pitch ratio, exposure of site and Local Government requirements. |